HAPPY CHINIE NEW YEAR!
Ahh...it's a merry merry Chinie New Year morning in the year of the Dog ( Go dogs! Dogs ROCK!) and the first thing i did in a merry Chinie New Year morning is to write a blog entry.
Yeahh.
'Novel' way to start the year.
Had a great reunion dinner last night. Just like all reunion dinners. Especially the food. And my nephews. Mom never fails to impress us with her cooking.
I never mentioned yet that I'm not working daytime anymore, have I? My 6(+1)-month contract with Inspidea had ended around January 7th, and FA's starting on the 6th of February. Though I'm not a production designer anymore, I still work part-time for my boss Andrew in Inspidea to further develop some new ideas. I'm glad to be working for him. I appreciate very much for the fact that he seems to value my ideas and inputs a lot. I suppose right now it's okay for me at this point to think of him as a friend and not a boss, though I musn't forget he still is! Great guy and a very dynamic-thinking individual. Guess I'll still be earning some pocket money to sustain myself yet for now...
Slept night for a change last night, what a development! Can't sleep much, though, cos of the sudden change in time.
Oh well, Happy Chinese New Year to all my friends out there!
Thanks for all the SMSes that you sent. You've all been great. So, eat imaginary 9mm bullet from a home-made polystyrene gun!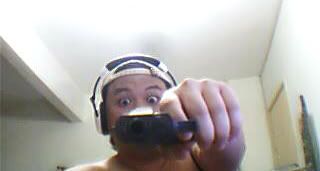 HAPPY CHINESE NEW YEAR!